Products
Foot aware: Under Armour Fat Tire Ascent Mid
Back in 2016, we turned the microscope on Under Armour's showstopping trail hiking boot. 
Equipped with MICHELIN technical soles, the shoe is a prime example of UA's innovative thinking and canny ability to separate themselves from everything around them. So much so that the the shoe managed to capture Outside Magazine's 2016 Gear of the Year award in the States.
Under Armour are, of course, no strangers to progressive technologies and breakthrough designs. They've helped to redefine sportswear in recent years — across numerous global sports including football, golf, tennis and basketball.
But it's Under Armour's latest venture into trail running that's sparked our interest.
Fresh off the Verge Low GTX and the popular Fat Tire, they've once again pulled out all the stops to bring trail runners a shoe they can wear with complete confidence.
So we took some time to get acquainted with their latest release — the Fat Tire Ascent…
At first glance
"We took our most innovative trail boot and reengineered it for speed. Super light, yet still supportive, it's time to blaze your own trail."
Under Armour
The Fat Tire Ascent Mid design isn't one you'll forget in a hurry.
Available in Rhino Black and the rather striking Phoenix Fire colours, Under Armour have proven once again that they aren't afraid to be bold and go against the grain.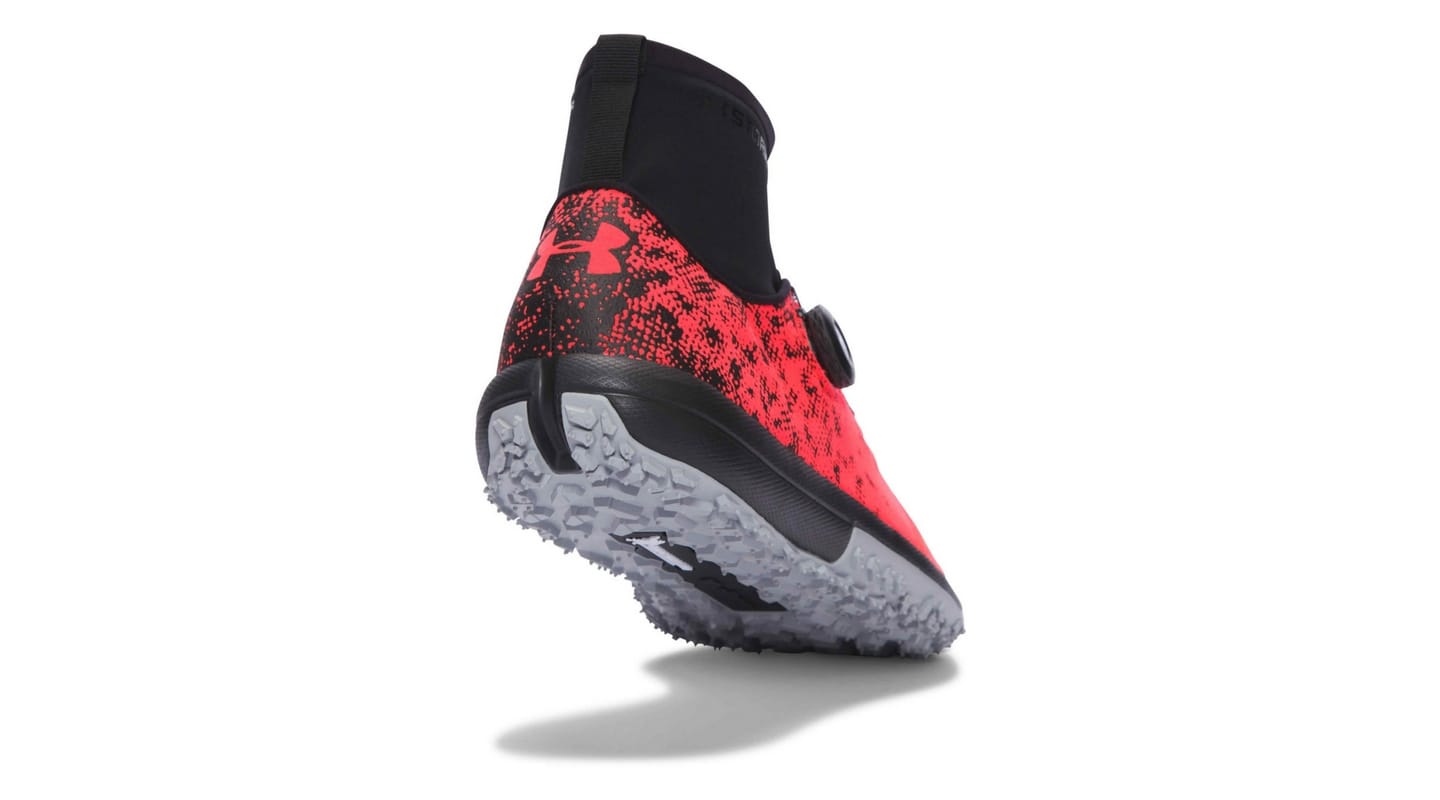 The snug, bootie-like ankle collar adds to the shoe's unique look and is something we've seen entering the fold of late.
It's a nice addition with multiple purposes.
It brings increased support and is also incredibly effective at shielding against mud, rain, debris and all manner of gnarly elements that often penetrate less protected footwear.
Another immediately notable addition to the next evolution of the Fat Tire shoe is the inclusion of Boa® Closure System.
You've probably seen these before, and for good reason. Boa's brainchild takes away all the hassle that comes with conventional laces.
Using nylon coated steel laces that twist shut, the closure system gives you the precise fit that you're looking for. It locks you in so there's no reason to worry about your footwear loosening as you clock up the miles – leaving you to push on with peace of mind.
Unmatched traction and explosive take-offs
Top to bottom, this shoe reeks of quality.
The integration of a full-length Micro G® midsole "turns cushioned landings into explosive take-offs" – and you can really feel it! This added power helps to position the Fat Tire Ascent among the most versatile trail running footwear available right now.
What's more, Under Armour have stayed true to the original Fat Tire shoe, sticking with the MICHELIN outsole which takes inspiration from the Wild Gripper's rubber compound.
But they've improved it.
The sole, which is less bulky than its predecessor, incorporates Michelin Fiber Lite technology to provide extreme lightness while maintaining high levels of performance, including greater adaptability to different types of terrain. It uses distinctive traction lugs for unmatched grip on any terrain, and is shaped to accommodate leaning and sudden changes in direction.
You could be a weekend XC trail blazer, or a high altitude peak bagger — or anything in between — and these shoes will still stand up to the test.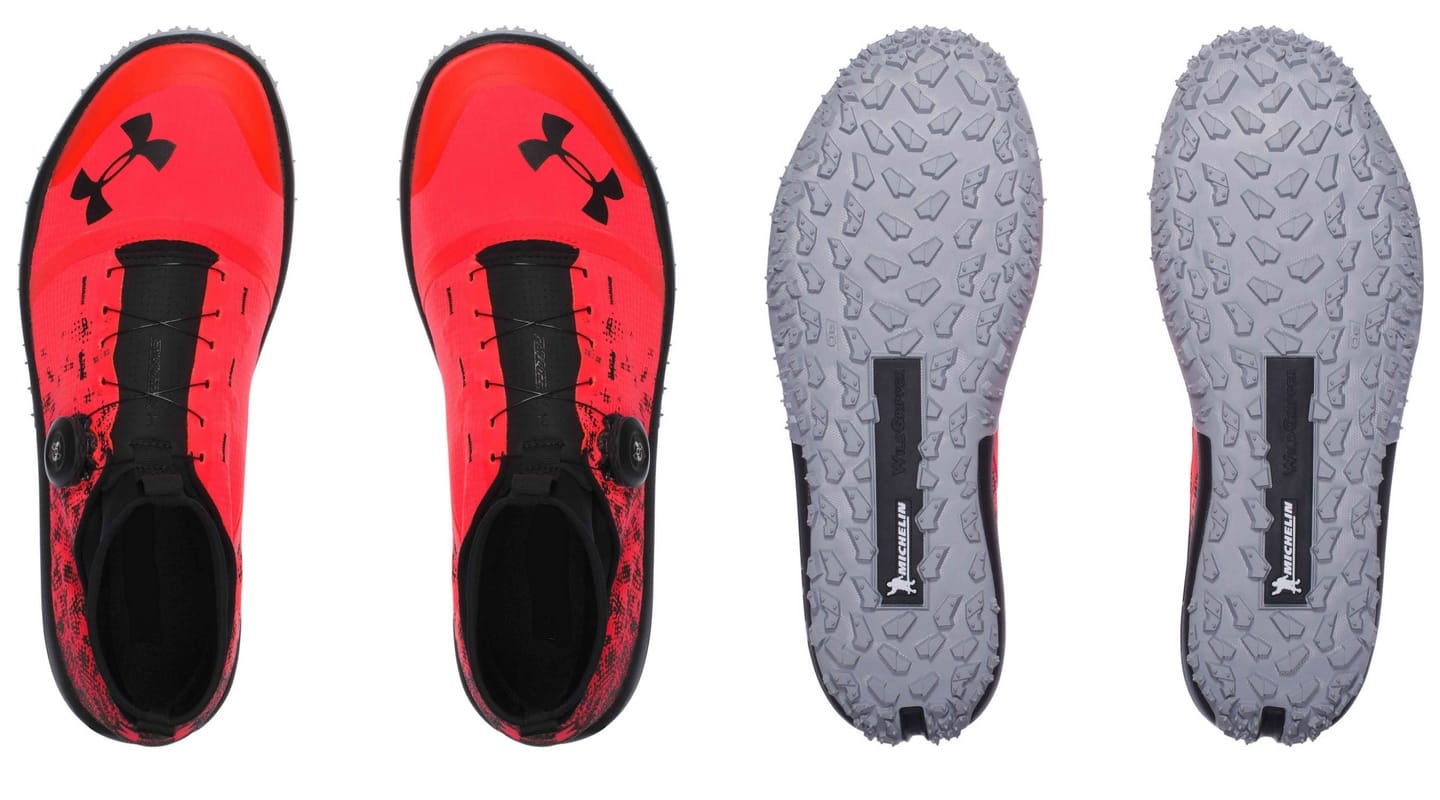 Engineered for speed
One trend that we've seen in outdoor footwear recently is a move towards ultra light, nimble designs which allow for greater agility and control at speed.
Well, it seems Under Armour are already leading the way in the featherweight footwear category.
With a flexible, soft-shell upper – finished with a robust rubberised print, the Fat Tire Ascent provides an impressive, somewhat enviable level of lightweight durability that you don't see on many shoes.
Tailored for comfort
Under Armour have turned to their unique Storm technology once more to ensure you stay dry on the trail. Because let's face it, waterproofing is crucial to comfort, and when comfort dips, so will your performance. Using a practical DWR finish to repel water, the shoe doesn't sacrifice breathability — meaning your feet stay cool and dry no matter what the conditions.  
We love how comfortable these shoes are. And with Removable Charged Cushioning, it's easy to forget you're wearing them! The sockliner moulds to give you a consistent personalised fit that cradles your foot and offers optimum support.
Beautiful stuff.
Final thoughts?
If you're looking for a lightweight, high performance trail running shoe, this could well be the end of your search.
Building on the innovative design of the original Fat Tire footwear, Under Armour have managed to expertly combine ultimate comfort with style and practicality.
The Fat Tire Ascent sets new standards. It's everything an all-terrain shoe needs to be and then some. With a durable, waterproof, agile design that doesn't skimp on support and stability – this is definitely one of the best set of trail treads we've ever seen.