Products
POWER AND COMFORT: NORTHWAVE'S FLAGSHIP MOUNTAIN BIKING SHOE DOES IT ALL
Mountain bikers need to be ready to compete with the harshest weather conditions, year round.
Come wind, rain, snow or mud, you want to stay dry, comfortable and focused from start to finish.
And that's where Northwave is leading the way. The brand is renowned for its revolutionary MTB footwear, apparel and accessories and the Flagship GTX shoe is no different – offering uncompromised power delivery and extreme comfort in all weathers.
The Flagship GTX is equipped with innovative technology and the best of Northwave's past collections, which combine to allow riders to transfer all their power into the pedals when tearing up the tracks.
Let's take a look at what makes it the perfect shoe for any conditions…
STIFF IS BEST
When it comes to passing power through the pedals, we all know performance riders benefit from a stiff sole.
By removing the shoe's flex, riders are able to build a greater connection with the pedal through the sole of the shoe and ensure power is efficiently transferred through each movement. Whether you're blasting down a hill, making a breakaway or attacking a steep climb, a stiff sole is vital for peak performance.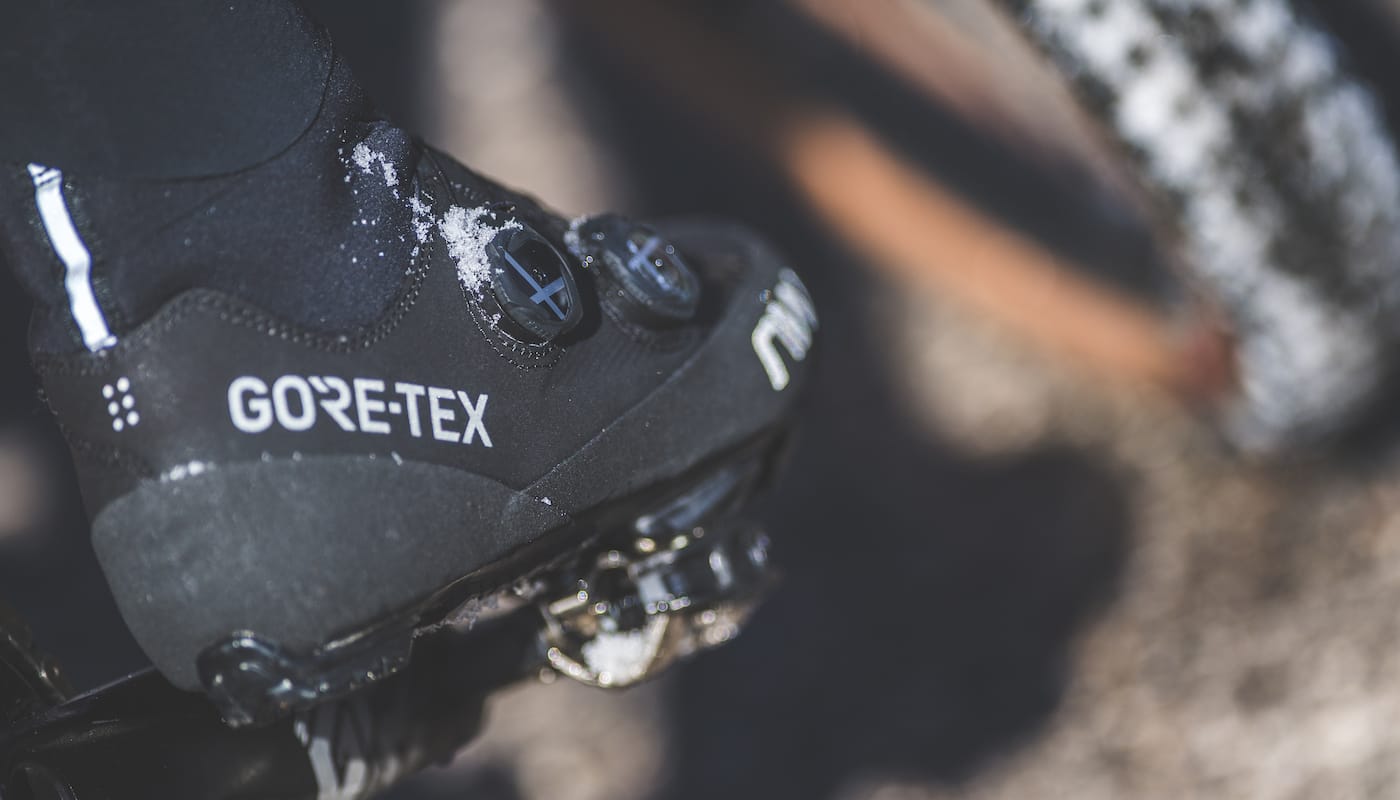 The Flagship GTX benefits from MICHELIN's hyperlight XC carbon soles, crafted from 100% unidirectional carbon. The soles score an incredible 14/15 on the stiffness index, allowing riders to turbocharge tough, technical rides with aggressive power transfer through each pedal.
They are sculpted through Dual Layer Compound Technology, which means superior durability and adherence. A soft layer increases flexibility, acting like an independent suspension, while the harder compound is much more resistant, promising excellent grip and enhanced traction.
Aggressive sculptures in the toe and heel offer more grip and traction, while side sculptures provide stability in the lateral area.
A FIT LIKE NO OTHER
Comfort, fit and protection are key to the performance of a shoe.
As the name suggests, Northwave has created the ultimate all-weather MTB shoe in the form of the Flagship GTX.
Let's dig a little deeper…
Thermal Insulation
Thanks to the Gore-Tex Duatherm Kelvin membrane – a wind and waterproof technology – the Flagship GTX shoes offer thermal insulation without compromising breathability or ventilation.
The neoprene membrane repels rain and snow, but sweat vapour can still escape to keep your feet comfortable.
And let's not forget the additional insulation provided by a lightweight Arctic 4layer insole, with aluminium and fleece technology for warmth in lower temperatures.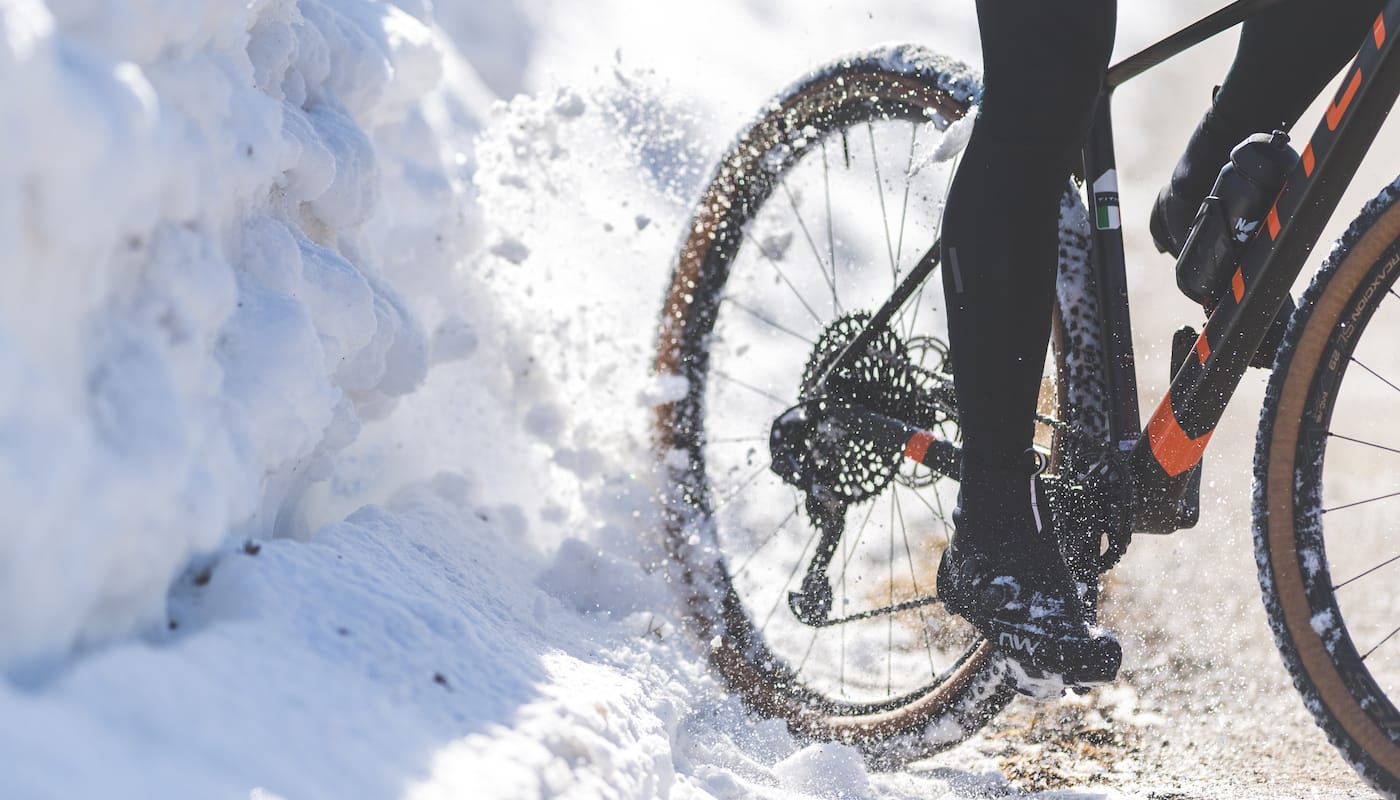 Unrestricted Motion
Offering unrestricted motion while boasting an unbreakable seal against the elements is quite the promise, but the Flagship GTX delivers. This is because Northwave's flexible Easyfit Climaflex collar features neoprene – an elastic, insulating and fast drying material.
Neoprene's unique qualities mean it is often used to design outdoor sports clothing. In this case, think of it as a lightweight wetsuit for your feet: the collar provides a reliable seal against water and mud, while letting you enjoy full motion of each pedal without any restrictions.
A Firm Fit
When transferring your energy through the pedal, it's important your whole foot feels supported.
Energy transfer relies on an advanced outer sole, however it's also crucial that your feet are held firmly in place without pressure points.
That's why Northwave has incorporated the snug XFrame upper and Twin Dial SLW2 closure system into the Flagship design. Together, the technologies guarantee long-ride comfort by keeping your feet in place with an easy-to-adjust closure system that can be altered even when you're wearing MTB gloves.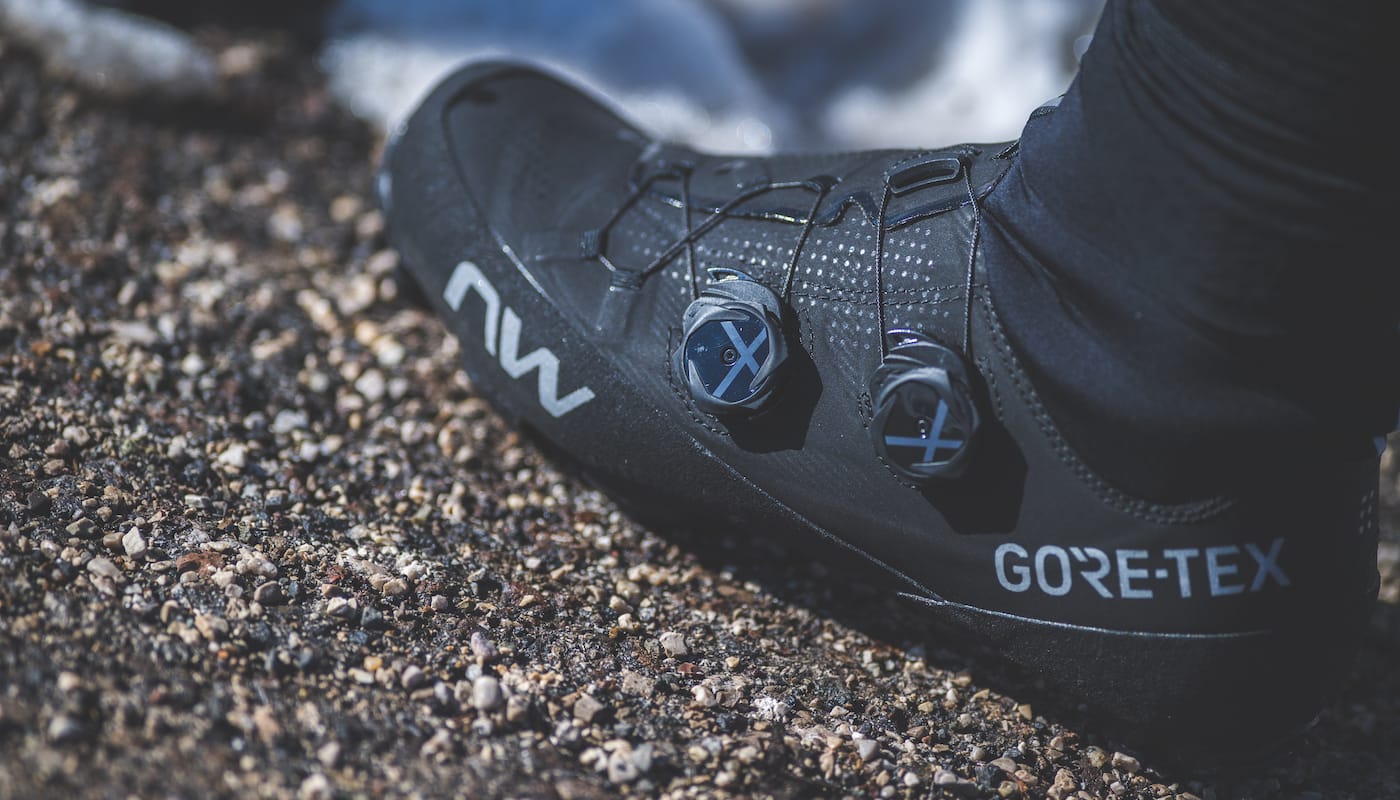 FEEL GOOD, RIDE BETTER
Northwave's commitment to changing the game and pushing the world of MTB to the next level is no secret. They're working closely with brands that share that ambition, like MICHELIN and Gore-Tex, and we can't wait to see what they do next.
In the meantime, we're going to enjoy getting the most out of the Flagship GTX, whatever the weather.