EMBRACE PEAK PERFORMANCE
Get the lowdown on the latest footwear releases, expert training advice, unique giveaways and motivational stories from athletes around the world.
Our email newsletter will bring you inspiring news on your favourite sports and activities, direct to your inbox every single month.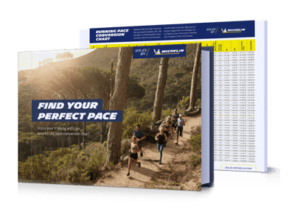 You'll also receive a free, easy-to-use running pace conversion chart to help you kick your training up a notch! We've included details of gear that will help you reach your goals, and inspiration from history's great pace setters.
By providing your email address you are agreeing to receive promotions, offers and newsletters from Michelin Lifestyle Limited via email. Your email address will be used to manage your marketing preferences and subscriptions, measure the performance of our campaigns, and analyse your interactions with our communications. You can withdraw your consent at any time by clicking the unsubscribe link in any marketing email. For information on how we process your personal information, see our privacy policy.