People
Krissy Moehl: Eighteen years of hard knocks (and counting)
Krissy Moehl has "filled a passport travelling the world"…
…competing at global events and helping others to achieve their potential in the sport.
Alongside a fierce appetite for racing, Krissy is an accomplished running coach, published author, public speaker and the race director for the Chuckanut 50K.
Following a super busy start to the year we caught up with Krissy to talk about 100-mile races, coping with jet lag, the fundamentals of running and more…       
HOW DID YOU FIRST GET INTO RUNNING?
KM: I've been a runner almost all my life. My 7th grade teacher got me into the cross country team and I ended up running all through high school and college. Then I worked at a running store with Scott Jurek and Scott McCoubrey.
After six months of pushing and prodding, they got me to join them on the trails out at Cougar Mountain in Washington. I ran my first ultra at the Chuckanut 50k, right before spring break of my senior year of college, and haven't looked back since.
DO YOU THINK THERE'S A REASON WHY YOU FELL IN LOVE WITH IT SO FAST?
KM: I think everybody's got their thing, right?
One time I was travelling for the HURT 100 race and this big, sumo wrestler of a guy who was loading the rental car van asked me "What are you here for?".
I told him I was there to help pace a 100-mile race. And he goes, "Why would anybody run 100 miles?" I looked at him and said "How much can you bench press?" And it was something ridiculous like three, four hundred pounds or something. So I said "Look at me, do you think I can do that?"
I think we all have that one thing we are bound to be good at. And running is mine. My biomechanics and my makeup, the way my brain works in terms of stubbornness and determination, it all wraps up into the perfect equation for an ultra runner.
Luckily, I feel very fortunate to have found it so early on.
WHAT DOES YOUR DAY LOOK LIKE TRAINING WISE?
KM: It really varies. I'm very much a group person. I love sharing miles with people and I'm even prepared to compromise my training if it means getting to run with someone.
With the recent Mt. Gaoligong 100-mile in China, I actually focused more on my training than normal. During the winter months there aren't as many people out training, so I ended up doing a lot more on my own than I'm accustomed to. And that was actually really challenging.
It wasn't as fun as a lot of my lead-ups to 100-miles have been in the past. It was a good lesson.
10TH PLACE IN CHINA. 1ST FEMALE, TOO. YOU MUST BE HAPPY WITH THAT?
KM: I was really excited to have such a great result, especially after such a hard winter of training. It was a big payoff. It's always really exciting to have that kind of result.
The other piece, that I wasn't aware of until the finish line, was this was UTMB's first international race, and I won UTMB [Mont Blanc] in 2003, their very first year. So fifteen years later, at forty years old, to still be able to compete at such a level, it was pretty amazing.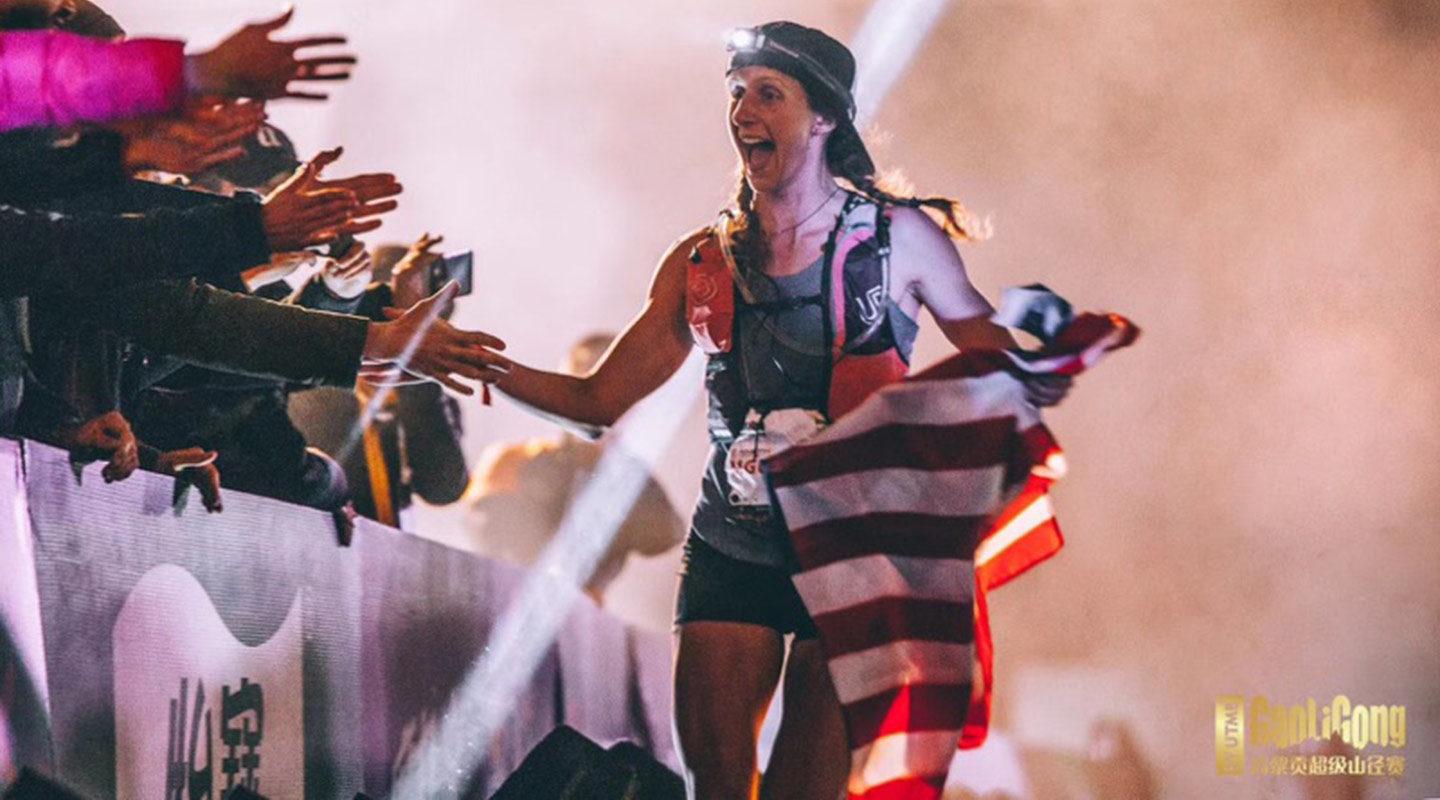 HOW DID THE MT. GAOLIGONG ROUTE COMPARE TO MONT BLANC?
KM: Very challenging.
Most races I've done with that kind of a profile have really long, sustained climbs and descents.
This one was constantly changing.
You weren't climbing for more than twenty minutes at a time, or likewise descending for much more than that. So there was no real rhythm. You couldn't get into a long sustained climb or stride out for a descent. You were constantly bearing with the terrain. And that beats you up mentally, as well as physically.
WHAT WERE YOUR BIGGEST HIGHLIGHTS IN CHINA?
KM: Getting to hang out with the other elites. They brought us all into the hotel and we shared meals family-style, all very authentic to the area too.
Also having my boyfriend there. I've done a lot of these events solo, I've filled a passport traveling the world, so getting to share the experience with him was a really cool highlight.
The theatrics involved were pretty crazy too. They orchestrated the event to make it so exciting and full of energy with announcers and laser lights. They even had smoke bombs going off! It was all so well thought out.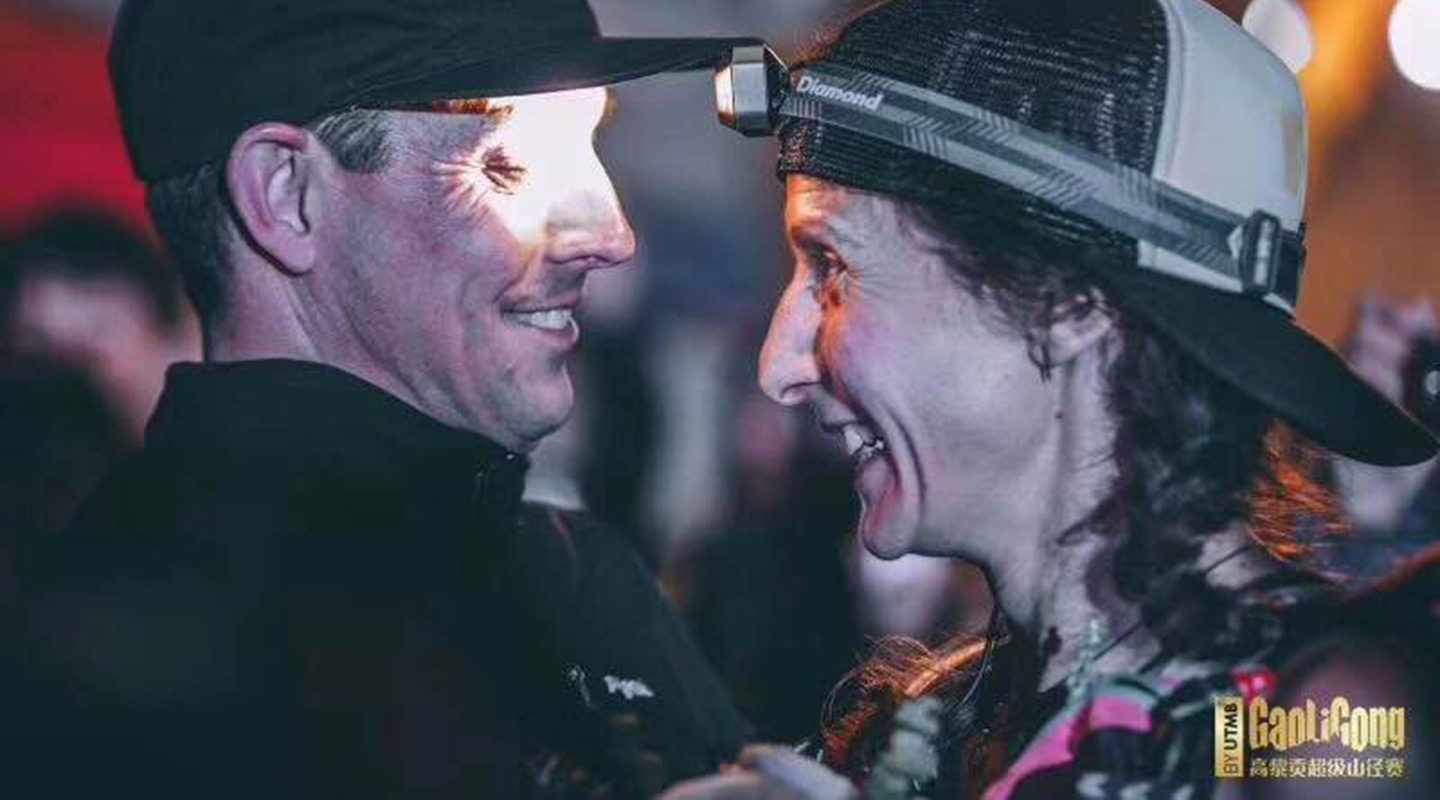 STRAIGHT AFTER MT. GAOLIGONG, YOU WERE BACK IN U.S. FOR CHUCKANUT…
Yeah! So I went to my team at Chuckanut and said, "Hey, Gaoligong is the week before Chuckanut, if you guys don't think it's doable, I don't have to go," coming up with every excuse in the book for why I shouldn't have to train for 100-miles again. But before I could even finish my monologue, they told me I needed to go.
It was a once-in-a-lifetime experience.
That set us off on the path to be better prepared – or prepared earlier anyway. We pushed our timelines up to have things done before I left for the race and it was awesome having everything dialled in by March 1st. We've actually decided to stick to that schedule going forward.
When I got back from China, I was super jet-lagged all week!
I was waking up at 4:27am on the nose everyday, and then I was tired again by 3:00pm. But that was actually perfect for me in a funny way, because you can get so much done before the rest of the world wakes up. I was able to get all the final things done to pull the race off on Saturday.            
WHAT DOES CHUCKANUT MEAN TO YOU?
KM: It was my first love. Everybody said that was the race I had to do.
I ended up winning it in my first year, way back in 2000. I ran it again in 2002, having missed 2001 because of an injury. That same year the race directors decided they were done. So in 2003 I directed the event for the first time. I'm not sure I knew what I was signing up for back then, but this year was my sixteenth time as race director!
I love sharing it with everybody. I go through the chaos so I can watch people that are running it for their first time, and the look on their face when they accomplish something that they didn't previously think possible.
That's what it's all about to me. Seeing those finishers come across, and hearing their stories.
READ MORE:
WHAT'S YOUR FAVORITE PART ABOUT COACHING OTHER PEOPLE?
Helping them see what they're capable of.
I got to write a book, a guide, about training called Running Your First Ultra. But it's also a guide for how to listen to your body and if you tune in and listen, all your training miles have lessons to teach you, and that's a big focus when I'm introducing my coaching style to people.
WHAT WOULD BE YOUR 3 BASIC RUNNING FUNDAMENTALS?
The first one is to enjoy it.
It's hard work. You really do have to enjoy it and keep that love and enjoyment for it, even when it gets hard. And I think that's been the most challenging part, having done this so many years, is making sure I maintain that.
Second is understanding there's going to be highs and lows.
Whether it's a mountain that you climb or the valley that you descend in, or if your blood sugar gets too low, or whatever's impacting you out on your run, just accepting and knowing that the highs and lows are going to be there. And it's how you work through them is what the experience is going to be.
And then the third is recovery.
To be able to run these long distances, a lot of times, you need to be very motivated to run, train and do all the stuff you need to do – the doing part. But I would say, it's actually the recovery time where you absorb the work and learn the most and benefit the most from the training.
[WATCH] Krissy's TEDxOverlake Talk: Life in Motion – Learning Through Motion
WHAT'S BEEN THE MOST COMMON BARRIER TO SUCCESS FOR THE PEOPLE YOU COACH?
I would think the mind would be the biggest barrier, but I'm lucky in that the clients I continue to work with, they're not very held up by their minds.
When it comes to that side of things, it's not necessarily part of the training plan. It comes in the phone calls we have, or the notes they write. It's the interaction we have where these things are learned.
For me it's been eighteen years of hard knocks. So the questions they're asking, I've experienced the answers. I'm answering them based on the experiences I've had, and also the experiences I've gained from coaching other clients.
ARE THERE ANY MIND TECHNIQUES YOU'VE LEARNED OVER THE YEARS?
A lot of times, it's just reminding yourself: "This this isn't how it's always going to be."
Something will change. It might get worse, but it might get better. But it's not always going to be just like this.
DID WRITING YOUR BOOK BRING YOU OUT OF YOUR COMFORT ZONE A LITTLE?
It totally got me out of my comfort zone, mostly because of how solo it was. It was such a solo endeavour to sit and write for 10 hours a day. I did that in two months.
I had to power through, and it was a lot of isolation. I can't work with distractions. I can't even go work in a coffee shop or listen to music. I have to be in a very quiet by-myself-at-home setting. And that was hard. Like I explained earlier, I love group efforts and training with people.
WHAT'S ONE THING YOU'D LIKE PEOPLE TO TAKE AWAY FROM YOUR BOOK?
I think it's actually just the simplicity of smiling. When you're at the lowest low, it's a smile that'll help.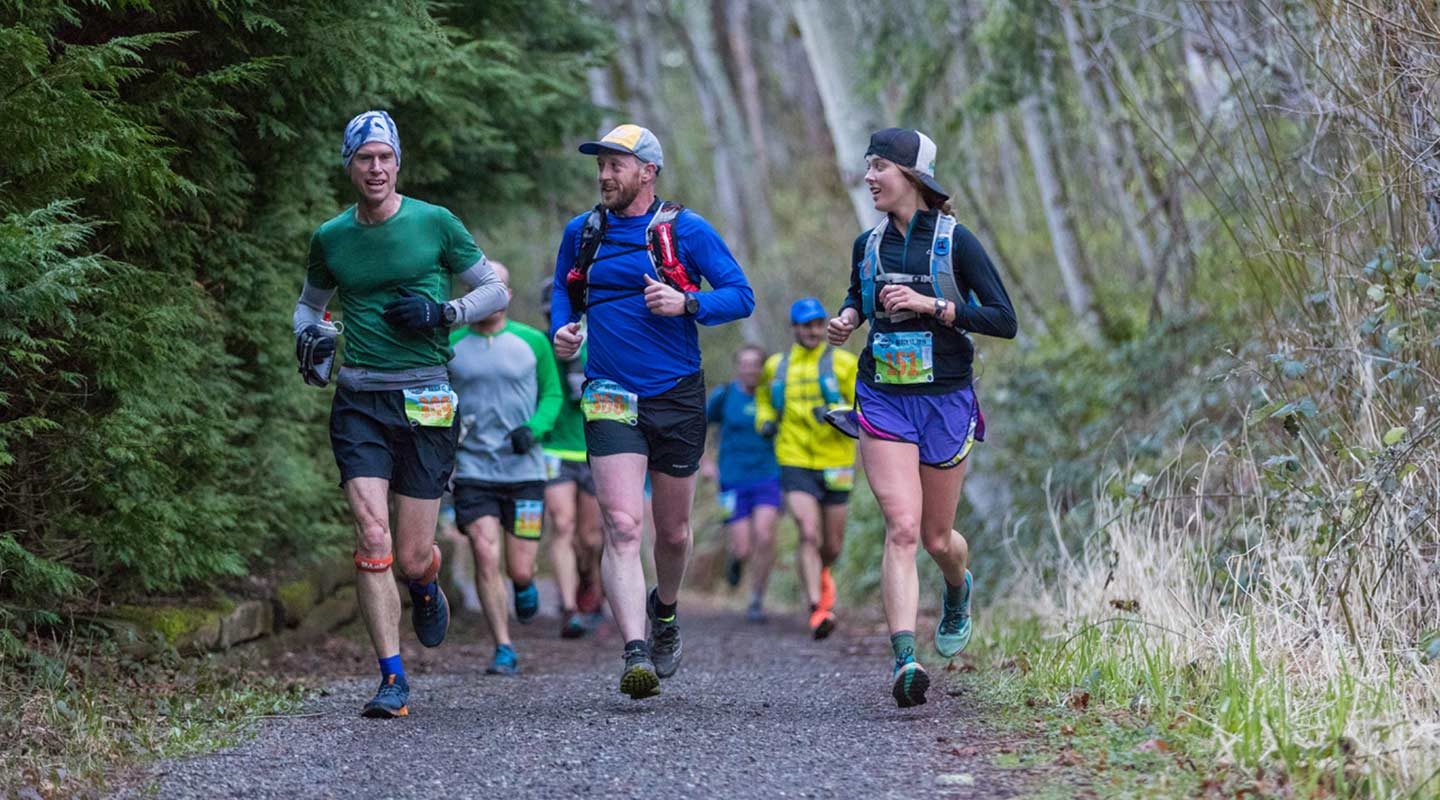 (Photo Credit: Glenn Tachiyama)
DO YOU HAVE ANY PLANS TO WRITE ANOTHER?
Yeah! I want to tell these crazy life stories that eighteen years of running and traveling around the world have brought me. So, I hope to find the right channels to get that out there.
I have eighteen chapters, actually. I started writing that book, before the training manual, a couple years prior. And then everything took a backseat when I got the training manual project. I have not found the fire to re-ignite it yet. There are some stories in there, I guess if I'm honest, I'm scared to share. And so, it'll take a little bit of getting that in order to be able to put it out there to the public.
WHAT'S BEEN YOUR PROUDEST MOMENT AS A RUNNER?
I guess it's not a "moment", but the consistency and longevity I've been able to achieve. That's epitomised in my win at UTMB in 2003 and now their first international race in 2018. I don't have a lot of things that I'm proud of, but that hit me as like: "Wow, this is an accomplishment."
WHAT'S NEXT FOR KRISSY?
Recovery, celebration, and acknowledgement of all that I have accomplished recently.
Running-wise, I really want to write this book, I think that's a good goal for this year. I'm going to be leading some running camps too, which I'm really excited about.
I think that I've also proved that I still have some racing left in me. So I'll be looking for that one, the next event that gives me the drive and nervousness I need from it.
Keep up-to-date with Krissy's story at krissymoehl.com – and follow her on Twitter and Instagram.